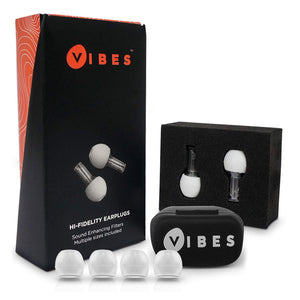 Vibes Hi-Fidelity Earplugs
$49.95

$49.95
Tax included.
---
---
Here's why you'll love the discover vibes ear noise protection plugs:
Create a richer, clearer and safer sound experience.
Comes with interchangeable multiple-sized ear tips.
Attenuating filters lower volume without muffling sound.
Hard pocket-sized carrying case for safe portability and storage.
Premium low-profile design for maximum discretion and durability.
High Fidelity Experience
Music festival, sporting event, or all-night-rave, Discover Vibes is the perfect companion to protect your ears all without sacrificing on sound quality! These noise reducing earphones not only lower damaging decibel levels by up to 22 decibels, but also significantly increase sound clarity to make any musical experience memorably immersive. Unlike foam ear plugs, they never muffle sound, allowing you to carry on a conversation or listen to music without any hitch. Enjoy clean, clear, and controlled sound every single time, and experience a high fidelity side of music you'll undoubtedly fall in love with.
All Day Wear
If comfort is high on your priority list when it comes to live music ear plugs, then Discover Vibes will simply blow you away! With soft ear tips designed to perfectly rest in the ear canal, these hypoallergenic ear plugs are uber-comfortable to wear; you'll even forget you have them on! And those around you won't know you have them on either. With an outer tube that is as clear as glass and a low profile design, these high fidelity ear plugs are virtually invisible.
Protect Your Ears:
Vibes Reusable High Fidelity Ear Plugs reduce damaging decibel levels by up to 22db (15 NRR) -- protecting your ears while in noisy areas, without compromising sound quality. We've fitted the noise cancelling earplugs with cutting-edge attenuating filters that lower volume without affecting sound fidelity. As opposed to outright noise cancellation, Vibes filter out specific frequencies. Thus, our sound reduction / insulation ear buds ensure a clear sound experience.
Key Features:
Virtually Invisble Design:
With a glass-clear outer shell and clear form fitting low profile silicone earbuds, our noise isolating earplugs are practically invisible. Compare to more bulky, noticeable and even dorky looking competitors. Vibes give a much cooler, more discreet Vibe that you, your parent, or your kids will feel confident wearing in public.
Noise Sensitivity Protection for Autism & Sensory Processing Disorders:
No more need for bulky earmuffs that block and muffle sound, Vibes decibel blocking work great for people with autism, sensory disorders and people that are generally sensitive to sound - such as ADHD, concussions, traumatic brain injuries, TBI, tinnitus therapy and hyperacusis.
Comfortable Size Options:
We've crafted our earplugs to provide a comfortable, snug fit for all ear types. The hypoallergenic silicone ear buds shape and multiple sizes (Small, Medium & Large) mean you can wear the ear plugs sound blocking tips for prolonged periods, such as an entire music concert, flight, sporting event, or loud movie, all without discomfort.
Conveniently Portable Design:
We've included a hard pocket-sized, portable case so you're to use your Vibes when you're traveling around or on-the-go. Vibes make one of those memorable music gifts for music lovers, and those who whose hearing you are concerned with.
---
We Also Recommend
---